SharePoint & Office 365 Webinars
NOVEMBER NITRO WEBINAR SERIES
Thursday, Nov. 8 – Creating Solutions w/NITRO Forms & Workflows
View Recording

Wednesday, Nov. 14 – NITRO Chatbots & AI Services
View Recording

Thursday, Nov. 29 – NITRO Portals & Modern UI
View Recording

Crow Canyon's NITRO Studio brings you the tools to engage users, streamline operations, and drive continuous improvement. NITRO runs in SharePoint on-premises and in Office 365. The first webinar focuses on building forms and workflows (Nov. 8), the second shows the NITRO AI Services and Chatbot (Nov. 14), and the third is about the NITRO Portal and Modern UI (Nov. 29). Sign up for one, two, or all three below!
NITRO Forms & Workflows

See how easy it is to build attractive, highly functional, mobile-friendly forms along with workflows and actions that automate business processes. Replace InfoPath, Lotus Notes, Access, SharePoint Designer, or any other legacy form/workflow solutions.

NITRO Chatbots & AI Services

NITRO Studio brings Artificial Intelligence (AI) to SharePoint. How about searching a Knowledge Base using natural language? Or getting IT support any time of day by interacting with a chatbot? These are not futuristic features, but part of Crow Canyon's IT Help Desk and NITRO Studio now!

NITRO Portals & Modern UI


NITRO Studio's Portal gives end users and customers a friendly, easy-to-navigate, secure interface to engage with any application you build. With the "Modern UI" in SharePoint, we are now able to take advantage of the many new features and advanced mobile capabilities this brings.

____________
OCTOBER 23, 30, and NOVEMBER 1
Fall Solution Showcase
Business Applications for SharePoint & Office 365
Oct. 23, 30, and Nov. 1
See how SharePoint, whether in Office 365 or on-premises, can provide robust solutions that meet core business needs.
Our user-friendly, SharePoint-based applications streamline operations, improve efficiency, and turn SharePoint into a productivity powerhouse!
Our "Fall Solution Showcase" had three sessions. You can view the recordings below.
OCTOBER 23: IT Solutions
See how SharePoint can meet IT needs.
We will showcase our IT Help Desk, Asset Management, Contract Management., Employee Portal, Onboarding, and more.

OCTOBER 30: Facilities/Work Order Solutions
Managing work orders and equipment efficiently is important to getting things done right and on time.
We will present our Facilities Request system, Work Order tracking, Equipment Management, Contract Management, Onboarding, and more.

NOVEMBER 1: HR Solutions
Yes, SharePoint can meet critical HR needs and help manage employee relations.
This session will show how, with our HR Request system, Document Management, Task Tracking, Portal, Onboarding, and more.
____________
PREVIOUS WEBINARS

Microsoft Teams: Real-World Demos & Tips for Success with MVP Matthew J. Bailey
• Watch a live demonstration of Microsoft Team's and the value
it can bring to your organization.
• Understand how an organization with many deadlines, work projects and goals can use
Microsoft Teams to dramatically organize their path to success and go from near nothing to success.
• Focusing on important and little-known features, you will learn how to use the many tools within
Microsoft Teams to quickly create successful experiences among your users and solve important real-world issues.
In this live session, MVP Matthew J. Bailey (co-author of Mastering Microsoft Teams, Apress) shares his real-world knowledge
about the top "must do" items in Microsoft Teams, how to understand it and use it best at this time. Also, we will try to
answer any questions you may have about how to best use the product.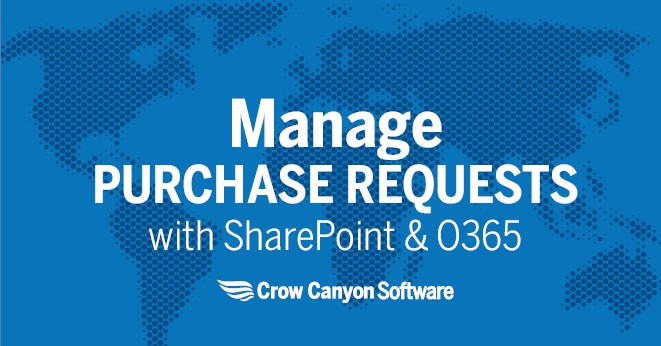 Improve Your Purchasing with SharePoint & Office 365
Lost emails? Missing approvals? Delayed purchases? No more!
With Crow Canyon's SharePoint and Office 365 Purchase Order System, you can track your purchases from thought to fulfillment.
We'll show you how to initiate the request, run through the approval process,
show the automated Purchase Order creation, and then walk through fulfillment of the Purchase Order.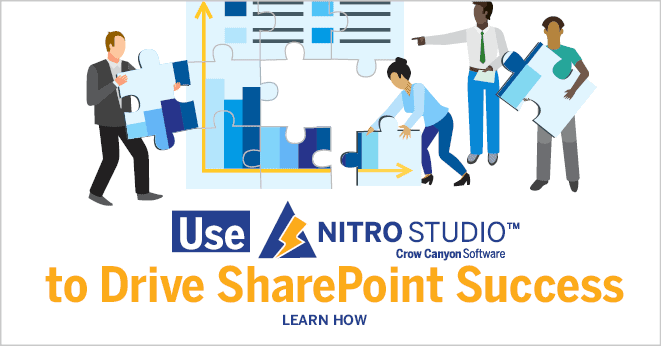 Use NITRO Studio to Drive SharePoint Success
Join us for this 30 minute webinar highlighting the most powerful NITRO Studio features.
Crow Canyon Software' s NITRO Studio is a powerful application creation platform for SharePoint & Office 365,
with forms, workflows, portals, reporting, and much more. Join us for a highlight of the unique features of NITRO Studio with
CEO, Scott Restivo in this 30 minute webinar. Now is a great time to check out NITRO Studio, while introductory pricing is still in effect.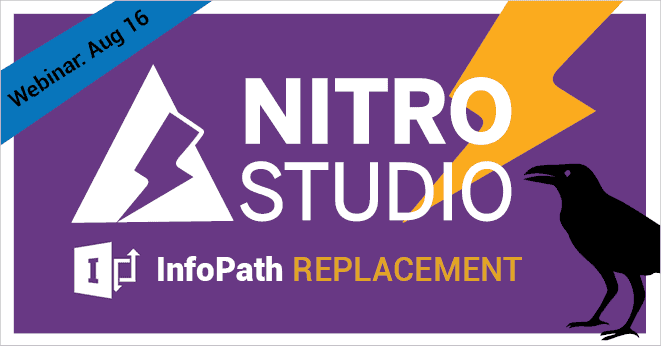 Replace InfoPath Forms with NITRO Studio
Microsoft has stopped development of InfoPath Forms. People are looking for a simple, low-cost replacement.
Crow Canyon's NITRO Studio easily fits this need, with forms, workflows, custom columns, portals, reporting, and more.
Find out how NITRO Studio can move your business forward by ending reliance on outdated solutions, such as InfoPath Forms.

Requests getting dropped? Unfulfilled requests?
Unhappy with the response time?
Increase user satisfaction with Crow Canyon Software's
Request Management System developed with NITRO Studio!
Introducing NITRO Studio™ Webinar Series
"NITRO Forms and the Power Portal"
The first webinar will focus on using NITRO Studio to create interactive, intuitive forms and portals.
NITRO Forms can replace InfoPath forms.
"NITRO Workflows and Custom Actions"
The second webinar will show how NITRO workflows and actions can streamline business processes.
Easily create manual and automatic workflows.
"NITRO Reports and Dashboards"
The third webinar will show how NITRO Reports and Dashboards can provide the reports and visuals you
need for monitoring and improving business processes at your organization.
SharePoint & Office 365 Webinars
was last modified:
December 3rd, 2018
by