The Time is Now!
InfoPath Replacement Resource Page
InfoPath is on its way out
Microsoft ended development of InfoPath Forms with InfoPath 2013
No new features are being added.
Mainstream support ends July 2021
Future enhancements to SharePoint and Office 365 could prevent some InfoPath features from working.
It's time to replace InfoPath with solutions that:
are cloud and mobile friendly.
use the latest form and workflow technologies.
are compatible with modern browsers such as Edge and Chrome.
integrate with Microsoft Office 365 and Teams.
Don't let InfoPath Hold You Back!
How to Move Off InfoPath
Microsoft's InfoPath Forms solution is being phased out. The time has come to make the move off InfoPath. That is easy to say – but how can it actually be done?
The basic process is this: You will need to know what InfoPath forms are in use at your company. You can then review the forms and decide which ones need to be converted and how much effort that will take. You will want to test different forms/workflow solutions and see which one provides the best options and ease-of-use. You will want to consider how new, modern technologies can be implemented to improve the form and its processes. See our eBook for full details.
After that, it becomes a step-by-step process: mockup the form, test it, get user feedback, revise, test again, go live.
Crow Canyon offers these tools and resources to assist with your migration off InfoPath
TOOLS
RESOURCES
eBook on InfoPath Replacement
Online guide to migrating off InfoPath
Datasheet on InfoPath Replacement
Webinars (both live and recorded) on replacement process (see "Resources" section below)
PROFESSIONAL SERVICES
How NITRO Forms Replaces InfoPath Forms
NITRO Forms allows you to design and implement custom forms in SharePoint and Office 365. It comes with a WYSIWYG Forms Designer where you can easily create forms using drag-and-drop controls. The Forms Designer has options for tabs, sections, themes, action buttons, scripting, permissions, and many other features that give you the ability to create the forms you need.
NITRO Forms provides a friendly interface for users to create, edit, and view SharePoint list items. The forms do not "inject JavaScript" when a standard SharePoint form loads, as many forms "solutions" do. Instead, NITRO uses the latest CSS and HTML to allow a high degree of flexibility and control of the display. NITRO Forms also only loads the data needed, not the full SharePoint item contents, thereby accelerating load time and performance.
NITRO Forms can connect with data sources in or out of SharePoint. The forms can link associated items, implement cascading lookups, allow multiple forms on one list, and much more. The Forms tool comes from Crow Canyon's nearly one dozen years building applications on top of SharePoint and Office 365. It is a low-cost, easy-to-implement solution for replacing InfoPath forms.
It makes sense to start the move off InfoPath to the modern, rich, mobile-friendly forms that NITRO Forms can provide. NITRO Forms is part of NITRO Studio, Crow Canyon Software's suite of apps that enhance SharePoint and Office 365. NITRO Studio gives you the power to easily create the applications you need.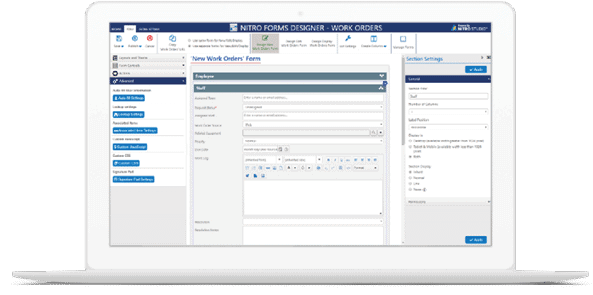 InfoPath Replacement Resources