IT Asset Management on SharePoint or Office 365
Track Assets and Equipment, Manage Maintenance, Service, Repairs and Upgrades
Asset Management on SharePoint or Office 365
Every organization needs to efficiently manage its hardware and software assets. With no or minimal tracking, assets get lost, they are not maintained properly, and new ones that are not needed are ordered, resulting in a substantial waste of time, money, and resources. Gain Control of Your IT Assets!
| | |
| --- | --- |
| OVERVIEW (4 mins) | WEBINAR (55 mins) |
| | |
Powerful Asset Tracking in SharePoint and Office 365
Asset Tracking works with our Help Desk to enable tracking of any type of asset: computers, servers, buildings, equipment, vehicles, and many other assets. Gain real-time visibility of IT equipment and software assets.
Trouble tickets are often related to an asset. Staff and managers need to track information about company assets. Linking tickets to assets is key to cost-saving efforts in equipment and facilities maintenance.
Accurate Asset Tracking Saves Time, Money, and Effort
Keeping IT asset records current is a challenge. But if you don't, you could be losing money, spending more than you need to, or using staff for record-keeping and research when they could be deployed more productively.
Missing inventory could be invisible for months. You could be duplicating equipment, overbuying, or spending on maintenance agreements for equipment you're not using. Repairs are more frequent than they should be because regular maintenance schedules aren't being kept. Equipment warranty, contract, lease and maintenance information isn't readily available.
Crow Canyon Asset Tracking for SharePoint / Office 365 delivers an efficient solution. Built on the SharePoint platform and fully integrated with Crow Canyon's IT Help Desk application, Asset Tracking supplies real-time answers to the key questions about your assets.
Who is using the asset?
What condition is it in?
Where is it located?
How many are in use? On the shelf?
What software and hotfixes are installed on it?
Is it under warranty or support contract?
Does it need upgrading?
What maintenance is due and at what cost?
Key Features
Detailed Asset Information
Track detailed information about each asset, including location, owner, status and more.
Integrates with Help Desk
Easily integrates with Crow Canyon's Help Desk for SharePoint to provide full-spectrum support and service to employees and customers.
Alerts and Notifications
Get alerts on asset maintenance, contract renewals, requests, issues, moves, and more.
Recurring Maintenance Tasks
Recurring maintenance tasks and schedules can be set up to track repairs and routine service.
Mobile Devices
View and update assets through smartphone or tablet. Get maintenance tasks and tickets while out in the field.
Integrates with Lansweeper, SCCM
Connect with SCCM, Lansweeper or other network inventory tools to collect IT Asset information automatically over the network.
Link to Warranties, Manuals, Docs
Important documents such as warranties, manuals, and purchase orders, are linked to the asset and readily available for reference.
Track Software License Usage
Track software purchases, versions, where used, and support terms – and get automatic reminders for contract and license renewals.
Reports & Dashboards
Visual displays of asset status, usage, maintenance needs. Use built-in reports or create your own.
Barcoding & QR Codes
Enhance asset and inventory tracking with barcoding and QR code capabilities.
Purchasing Module Available
Purchasing / Procurement module can be added to manage purchase and intake of assets.
Checkin / Checkout
Know who is using the asset, how long they need it, and when it will be returned
Procurement and Purchasing Module
With the rapid changes in technology, organizations have a constant need for new IT equipment, as well as upgrades and replacements. New software and new versions of critical applications are released and must be incorporated into the business.
Crow Canyon's Procurement and Purchasing Module gives you the tools to manage IT hardware and software requests. Track the requests through approvals, order tracking, and receipt.
Acquisition and Commissioning of Assets
Acquisition and commissioning of assets — that is, the ordering and deployment — is a vital function of IT departments. Requests for new assets can come in from a variety of sources; they may or may not need approvals; what is being requested may already be in Inventory. These requests need to be tracked and managed.
Without a Procurement process, the acquisition of assets is often chaotic and inefficient. This is especially true in growing organizations, which need new hardware and software, but have ad hoc or non-existent ordering systems.
Crow Canyon's Procurement system manages the requests and necessary approvals; it can generate a Purchase Order directly or send the order information to the company's Purchasing group so the order can be placed. Once the equipment or software arrives, it needs to be reconciled against what was requested. The assets are then automatically brought into Crow Canyon's IT Asset Management for SharePoint application. The new assets become part of the management database, where they can be put into immediate use or entered into inventory.
Crow Canyon's Procurement module streamlines the asset acquisition and commissioning process, ensuring accountability at every step and making sure resources are not wasted or over-ordered – an important time and money-saver in any organization!
See press release: Crow Canyon Releases Procurement Module for IT Asset Management.
Call Crow Canyon at 925-478-3110 to start tracking your assets today!
Integrates with SCCM and other network discovery tools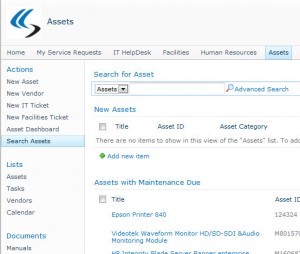 Network discovery tools provide an efficient way to record detailed configuration information on connected IT assets.
Crow Canyon Asset Tracking for SharePoint / Office 365 can integrate with these tools to deliver powerful, full life-cycle asset management.
Our Asset Tracking can pull in data from these network discovery tools and display the highly detailed configuration information these tools provide. This configuration information is readily available to the IT Staff as the work on Asset tickets and issues and do maintenance. Technicians can drill-down on computer, printer, and device configurations and see hardware and software details to help resolve an issue.
Microsoft System Center Configuration Manager (SCCM) is a Windows product that enables administrators to manage the deployment and security of devices and applications across an enterprise. With SCCM, you can manage your PCs and servers, keep software up-to-date, set configuration and security policies, and monitor system status while giving your users access to preferred applications from the devices they choose. Learn more about SCCM here.
EMCO Network Inventory scans your computers and devices and builds an extensive database. There is no need to install any agents on the computers; all scanning is done by standard built-in functionality. Available for purchase through Crow Canyon. Learn more about EMCO Network Inventory here.
Dell KACE, Lansweeper, and others. Our Asset Module can connect with Dell KACE, Lansweeper, and other automated network discovery tools. Contact Crow Canyon for details on integration with these programs.
Contact Us for a live online SharePoint application demonstration.
IT Asset Management on SharePoint or Office 365
was last modified:
September 28th, 2018
by