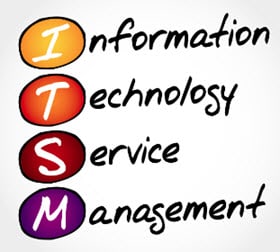 In the late 1980s, the UK government decided to tackle the need for standardization in the burgeoning IT industry. Over time, this set of standards coalesced into a program called IT Service Management (ITSM) and, within that program, a specific subset of practices evolved that is now referred to as ITIL: Information Technology Infrastructure Library.
In the ITIL framework, the Service Operation component describes best practices for the delivery of IT services to end-users. This component is critical because it is the IT service most intimately connected to business needs. It includes several functions, such as technical management, application management, IT operations management, and service desk. It is this last category, Service Desk, which we will explore today.
Service Desk (Service Operation component)
The Service Desk is at the forefront of ITIL framework functions and includes tasks such as incident control and customer communications. The primary features of an ITIL-compliant service desk include:
Single point of contact
Single point of entry and exit
Streamlined communications
From an ITIL standpoint, the Service Desk provides a centralized approach to handling all communications between the service provider, its users (those who are using the service), and the customers (those paying for the service). ITIL categorizes incoming communications into two broad categories: incidents (issues, problems) and service requests (standard/routine requests).
Transforming these concepts into a workable reality, though, can be a challenge. In order to align communication processes with ITIL principles, IT companies need to consider the following questions:
How do I keep track of customer and/or employee requests?
Is it easy for my customers and/or employees to initiate communication? Are multiple options available? Web? Mobile? Outlook?
Can you configure your own alerts and notifications? What if a customer request is not answered?
What if approval is required? Are approvals properly audited? What if a request is stuck pending approval?
For internal communications, is it easy for you to associate a communication channel with documentation (e.g., policies)?
Do you have full reporting and analysis capabilities? Can you quickly verify how long it takes your service desk to answer and close a ticket?li>
Crow Canyon Help Desk System: Facilitating ITIL Communications
Crow Canyon's Help Desk System is a SharePoint-integrated solution that can help your organization implement an ITIL-friendly approach to your service desk requirements. Our solution, which runs in SharePoint on-premises or Office 365, offers a highly configurable and automated approach to service desk management, enabling you to tailor the request handling experience while making your teams more productive.
The Help Desk System is designed to centralize the service request process. Users and customers can use multiple methods to initiate communication with your organization, such as e-mail, telephone, or from within SharePoint — every message is instantly transformed into a ticket which can be recorded, analyzed, tracked, and routed according to your specifications.
The flow of communications can be customized according to your organization's needs. For example, service requests can be subject to a defined and automated workflow. New requests can be automatically routed to a specific user or a group of users — the recipient can approve or disapprove the request, after which the message is auto-routed for implementation. Notifications and alerts can be set up throughout the ticket lifecycle to ensure that best practices are met (e.g., maximum time spent/allocated) and that critical incidents are not lost in the shuffle.
The entire communication process is meticulously tracked and saved for further analysis and reporting purposes, enabling Senior Management to correlate employee performance with productivity levels (e.g., time spent completing tickets, time spent waiting for approvals, etc.). End-of-process surveys can likewise be included for the inclusion of customer feedback.
This centralized approach means that your organization can confidently implement a comprehensive service desk process while remaining compliant with the spirit of the ITIL framework:
Single Point of Contact: The Crow Canyon Help Desk System isn't reliant on a singular point of contact (e.g., all users don't need to call a specific telephone number); the system is flexible enough to handle multiple incoming communication points. The difference is that ALL new communications are transformed into a "single point of communication": the ticket.
Single Point of Entry and Exit: Tickets enter the system and tickets exit the system. This singularity provides a common denominator for analysis, routing, tracking, and reporting.
Streamlined Communications: The communication workflow can be as automated as you like. Fully-configurable workflows and forms means that you can easily create an automated, streamlined experience for your users and customers.
Implementing an ITIL Standard Help Desk
The ITIL framework has enabled thousands of companies worldwide to more closely align their existing IT processes with their business needs. This is of particular importance when it comes to communication: organizations need to form relationships with their customers while promoting service efficiency among their employees. The service desk environment represents an opportunity for companies to combine a well-defined communication process, such as ITIL, with a flexible automated request system, such as the Crow Canyon Help Desk System.
Want to learn more about how our solutions can transform your SharePoint experience? Give us a call at 1-925-478-3110 or contact us by e-mail at sales@crowcanyon.com