Last May, Microsoft hosted the Future of SharePoint conference — an event designed to let the world know that SharePoint was still in Microsoft's good graces. This was indeed the case as new development announcements were made in favor of multiple SharePoint-integrated apps such as Office Graph, the Development Framework, Flow, and PowerApps. Now that five months have passed, is Microsoft staying true to its announced course?
If the announcements made at the Microsoft Ignite conference this past September are any indication, the software giant is keeping its promise for not only SharePoint, but also Office 365. In today's blog article we'll take a brief look at some of the major announcements from the Microsoft Ignite conference.
Enhanced File Sharing and Management with OneDrive
The big news out of Microsoft Ignite is enhanced file sharing and management functionality for the OneDrive browser and mobile experience. Previously, file sharing between OneDrive, Office 365, and SharePoint was a bit of a mess. It was not uncommon for users to create a file on their desktop, sync it to OneDrive, and then upload it to SharePoint for collaboration. The end-result was up to three versions of the same file saved across multiple locations, which, understandably, caused significant headaches when trying to ascertain file versions.
Microsoft's new approach is to put OneDrive at the center of the file universe. Users can now access, edit, and share all files and folders in Office 365 whether they are in your OneDrive or SharePoint team sites. No matter what device you are using, OneDrive's unified file view will become the go-to location for all of your content.
For example, if you are working in multiple teams that produce large quantities of documents, you can use OneDrive to easily access files associated with you. Documents can also be moved to other areas within the Office 365/SharePoint environment from within OneDrive — no need to jump around.
Some other enhancements include:
Maximum storage space per site or group has been increased to 25 TB;
Office Graph-powered "Discover" view in OneDrive intelligently recommends files based on your historical usage patterns;
OneDrive provides insight into the activity, reach, and impact of your files;
SharePoint sync has been added to OneDrive for PC and Mac.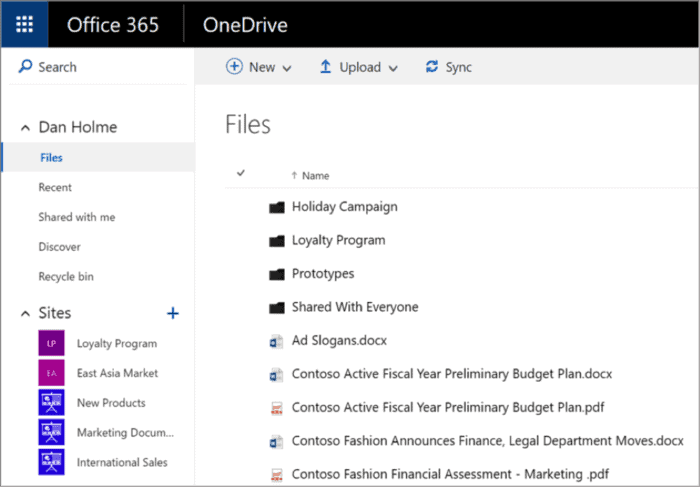 The New People Experience in Office 365
Leveraging the power of Graph, Delve, and massive quantities of data, Microsoft has re-vamped its approach to conveying user details. Termed the new "people experience," environments that once displayed basic content now show a wealth of bespoke data; meaning, content that is relevant to the end-user.
The end-result of this effort is the people card, a dialog box that appears on cursor hover inside lists, document libraries, and OneDrive. The old version showed only contact details, but the new version also displays organizational relationships and recent documents.
Additional content appears when the card is expanded:
Contact: Start a Skype chat, call, directly send an e-mail;
User activity: Scheduling content from Exchange Online that displays whether the user is free or busy;
More user content fields: List projects, skills, education history;
Delve-like search results: Search results for users are divided into sections for people, documents, and boards. Find users by expertise, title, or location.

Office 365 Teams
Office 365 groups can be used to define teams of people so that shared content can easily be accessed, such as notebooks, calendars, task plans, and conversations. One of the new announcements from Ignite is the addition of team news to the SharePoint home page. Now, when you launch SharePoint, team news is automatically pulled from all your team sites & groups and displayed prominently. Team news content areas are mobile by default and include support for rich multimedia and custom web parts.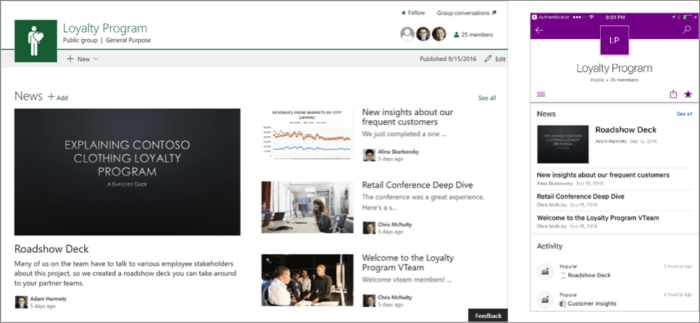 Learn More
The Ignite conference proved that last May's Future of SharePoint event was not just an anomaly; Microsoft does seem to be truly dedicated to SharePoint and finding new ways to enhance their integrative hybrid approach. Over time we expect to see this trend continuing, with increased functionality aimed largely at integrating existing interfaces across the Microsoft app universe.
Want to learn more about how our solutions can help your company engage with your customers and/or users? Give us a call at 1-888-706-0070 or contact us by e-mail at sales@crowcanyon.com