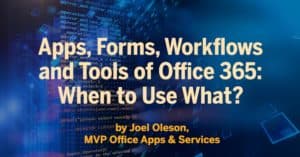 These questions and answers came from our recent webinar with MVP Joel Oleson on "Apps, Forms, Workflows and Tools of Office 365: What to Use When?"
We are looking to get you the information you need to be successful in building applications on SharePoint and Office 365. See webinar recording and other information here.
– – – – – – – – – – – – – – – – – – –
Q: None of the tools that Microsoft has really mimic the functionality found in InfoPath. How long until we see that same level of functionality?
A: Don't hold your breath. Microsoft is not planning on rebuilding InfoPath. Flow, Forms, PowerApps, etc… are their own new creations. Don't expect Microsoft to rebuild InfoPath… it's dead. That is why third-party solutions like Crow Canyon's NITRO Studio are getting a buzz.
Q: What does the E3 Office 365 subscription include as it relates to Microsoft Forms, Flow, PowerApps and Power BI? 
A:
Forms is free for everyone for building and consuming forms (including anonymous users).
Flow is covered for all standard connections but the premium Flows are extra.
PowerApps licenses are included, but do NOT include Plan 1 or Plan 2. These are additional add-ins.
Power BI; you can download the client and run it but, to get Power BI Pro you need E5 or you can add on Power BI premium.
Q: Can anyone create PowerApps without a license?
A: No. You can't create or consume a PowerApp without a license. E3 does include license to create or consume PowerApp… it just needs to be assigned if it hasn't.
Q: Can you please provide all the training videos links to know how to use in details of all the Apps, Flow, Form, PowerApps, Power BI, and NITRO Studio to ease the use of them. and if we have any question for support, how can we contact a direct chat with the supporting team?
A: You can go to this site: https://support.office.com/en-us/office-training-center
You can also go to YouTube's Microsoft Flow channel and from there you can navigate to the PowerApps, Power BI, and Office 365, Dynamics 365 YouTube Channels in Featured Channels on the right. https://www.youtube.com/channel/UCG98S4lL7nwlN8dxSF322bA
For NITRO Studio, go here for support and training videos.
Q: Does NITRO Studio have On-Prem options or similar that could be required to meet InfoSec/government compliance?
A: Yes, NITRO Studio has an on-premises version that could meet InfoSec/government compliance (SharePoint 2013, 2016, or 2019)
Q: Can you give us an update on when PowerApps and Flow will be available on the government tenant?  Can you also include what is available for the Government Cloud Community?
A: PowerApps/Flow is not available in the GCC yet.
The Office 365 roadmap says:


Q: Power BI vs Tableau? Thoughts?
A: They are very different and have very different capabilities… that being said, check out what Gartner said… they are both in the leader quadrant as of 2017.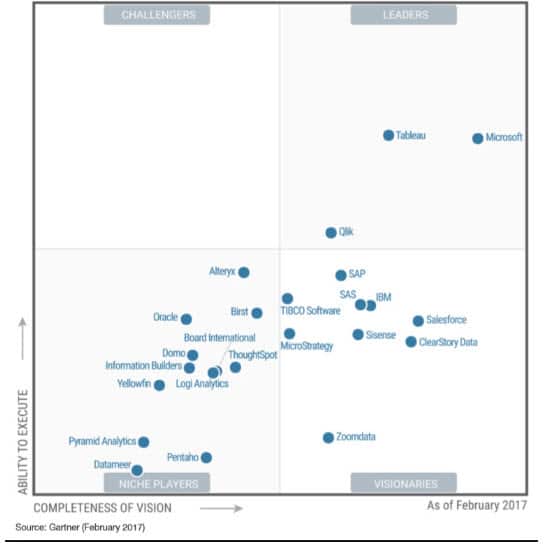 Q: Would Power BI Report server with gateway bypass some of those limits?
A: https://docs.microsoft.com/en-us/power-bi/service-gateway-onprem
I have not seen any reference to quotas in on premise Power BI. I expect not all of them would apply, but you should be smart and do testing and validation.
On-premises data gateway: Multiple users can share and reuse a gateway in this mode. This gateway can be used by Power BI, PowerApps, Flow or Logic Apps. For Power BI, this includes support for both schedule refresh and DirectQuery. https://docs.microsoft.com/en-us/power-bi/service-gateway-getting-started
Q: Does a Microsoft Form belong to a person or to the company? What if a person leaves the company?
A: A Form is stored in Azure or any number of places. You can't update them, so they definitely don't follow you, but in Europe and soon to be California and many other places, you should have rights to your private data. Today, you don't have many rights for access to your data stored in Forms or PowerApps as a user. You can always try… that's what privacy is all about.
Q: PowerApps; Is it possible to connect one PowerApp to multiple SharePoint lists during run time? For example, choose a team site and select the values from a list, then connect to another team site with a list having the same name or list to collect issues in multiple teams or projects?
A: Yes, check out a direct question in the forum https://powerusers.microsoft.com/t5/General-Discussion/Read-and-write-to-2-seperate-SharePoint-lists/td-p/101938
Q: The web link on the what to use where isn't working… can you double check it?
A: You're right, it was messed up.  Here's the correct link:  http://bit.ly/msformslimits
Q: Forms Pro????
A: There is a slide in the presentation on Forms Pro from the announcement at http://formspro.microsoft.com
Q: Will Forms ever evolve into more that what it is today or is the direction to use PowerApps?? This is a tough thing to swallow for non-development SharePoint admins?
A: Forms is used for quick quick survey polls, and simple forms. It will get better, but it will never be PowerApps. There are also third-party solutions such as Crow Canyon's NITRO Studio which is geared towards no-code/low-code development.
Q: Can you give a link to the "usage stat reports" for Power BI?
A: Check out these links:
https://docs.microsoft.com/en-us/office365/admin/usage-analytics/usage-analytics?view=o365-worldwide
https://docs.microsoft.com/en-us/office365/admin/usage-analytics/customize-reports?view=o365-worldwide
Microsoft 365 usage analytics contains a number of reports, including:
Adoption overview report— offers an all-up summary of adoption trends. Use the reports in this section to learn how your users have adopted Office 365 as well as how overall usage of the individual services has changed month-over-month. You can see how many licenses are assigned, how many of those are in active use by people in your organization, how many users are returning users and how many are using the product for the first time.
Product usage report— offers a drill-down view into volume of key activities for each service. Use the reports in this section to learn how your users are utilizing Office 365.
Storage used report— Use this report to track cloud storage for mailboxes, OneDrive and SharePoint sites. You can use this to make sure people in your organization stay within limits, or to decide if you need to purchase more storage resources.
Communication report— You can see at a glance whether people in your organization prefer to stay in touch by using Teams, Yammer, email, or Skype calls. You can observe if there are shifts in patterns of use of communication tools amongst your employees.
Collaboration report— See how people in your organization use OneDrive and SharePoint to store documents and collaborate with each other, and how these trends evolve month over month. You can also see how many people share documents internally or externally and how many SharePoint sites or OneDrive accounts are actively being used.
Office activation report— Track Office 365 ProPlus, project, and vision activation in your organization. Each person with an Office license can install products on up to five devices. Use reports in this section to see the device types on which people have installed Office apps.
Access from anywhere report— Track which clients and devices people use to connect to email, Skype for Business, or Yammer.
Individual service usage reports— Usage reports are available for certain individual services. These reports provide specific usage details for the respective service. Exchange usage, Teams usage, and Yammer usage are examples of these reports.
Individual service user activity reports— User activity reports are available for certain individual services. These reports provide user level detail usage data joined with Active Directory attributes.
Q: Can Forms handle attachments?
A: No, Forms do not handle attachments. Microsoft says they are working on it.
Q: In Microsoft Forms, you can have only 60 responses in a choice field. Are these the top 60 listed there?
A: Yes, there is a limitation in Microsoft Forms to 60 options in a choice field. The top 60 are stored, all of the other choices are shown as "Other":
https://techcommunity.microsoft.com/t5/Microsoft-Forms/Microsoft-Forms-Choice-question-Limit/td-p/172463
Q: I have created a custom PowerApps form and a mobile app that triggers a Flow approval after the data is sent to a SharePoint list.  I have Flow Plan 1 that created the Flow. Do I need to be concerned if that Flow gets triggered too many times by employees entering in data?
A: No, you shouldn't be too worried unless you're doing some kind of check every 5 minutes.  You will get a warning if you're getting close to running out of your quota of runs for the month.

Q: I was told by a MS expert at SharePoint Fest DC that Forms cannot hide a field like you can in InfoPath. Will it have that ability?
A: I can't tell you what hasn't been announced. You can see the roadmap at https://office.com/roadmap
Q: Is it possible to use Flow on-premises without Hybrid systems?
A: No.  You need a gateway because there is no on-premises install of Flow or Forms.
Q: Does PowerApps replace InfoPath and is it available on SharePoint 2019 on-premises?
A: Flow, Forms, and PowerApps all replace InfoPath and SharePoint Designer, but it gets more complicated for on-premises. SharePoint Framework is another alternative for building applications.
Q: We use Nintex Forms and Workflows. Can I see NITRO? I want see the difference. Would love to see NITRO. I'd like a live demo.
A: Yes, we'll provide you with a demo here. You can contact sales at Crow Canyon as well to help you out.
Q: Forms and Flow do not look to me like a replacement to create forms in SharePoint or to build processes for my company.
A: There are many options to building application in SharePoint and Office 365 such as the tools from Microsoft (PowerApps, Flow, and Forms) and third programs like NITRO Studio. You'll have to assess what works best for your company.
Q: Does NITRO have the same license model like Nintex where I pay for each workflow?
A: No, NITRO is not priced on a per-workflow basis. See pricing and other information here.
Q: How much work is it to port existing InfoPath forms (we have many) to the next thing (MS Forms, MS Flow, PowerApps, Nitro)?
A: There aren't any migration wizards that I've seen.  I recommend building new in Forms, Flow, PowerApps, SharePoint Framework, third party Forms/Workflow tools, etc.
Q: What do you think of SharePoint Framework as a tool to overcome the limits of PowerApps?
A: That's a possibility. It really depends on which limit you want to overcome.
Q: How can we access the Forms Pro preview?
A: You'll hear soon.  It says Spring 2019, which means March or April likely.  Follow http://formspro.microsoft.com
Q: Is there a way to move a Microsoft Form from one owner to another individual? Currently it seems you can only move the Form to a Office 365 group.
A:
https://forms.office.com/Pages/delegatepage.aspx?originalowner=[email address]
2. On the form you want to transfer, click More form actions, and then select Move.
Q: Can 1 user have Flow 2 and see organization usage for all users that would just have Flow 1?
A: Yes, Certain users can have Flow 2.
Q: Can one user have a Flow 2 license such as an admin and be able to see organization Flow usage?
A: Yes
Q: Is Flow equivalent/competitive to Nintex or K2?
A: Flow is a browser based "if this, then that" style conditions, actions, and workflow. Take a look at NITRO Studio for a more streamlined experience for inclusion of all your needs as well as being much more affordable than Nintex or K2.
Q: Create a Form via an Office 365 group? The Form would belong to the group and not a specific user, right.
A: A group can own a Flow or a Form. You can reassign ownership of a Flow or a Form.
Q: Could you share the output of Power BI reports on SharePoint?
A: Sharing the Power BI reports on SharePoint still requires proper licensing.