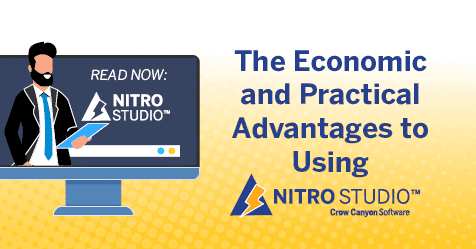 Crow Canyon Software's NITRO Studio is a powerful and comprehensive tool for automating business processes on Microsoft's SharePoint and Office 365 platforms. With a robust WYSIWYG forms designer, a workflow manager, reporting tools, self-service portals, and more, NITRO brings you the tools you need to streamline operations and improve operational efficiency.
That said, there are other tools that also provide forms and workflow solutions for SharePoint. So why go with NITRO Studio?
There are many reasons. NITRO Studio is highly affordable, easy to use, comprehensive, and well supported.
NITRO Studio is very reasonably priced and is affordable to most organizations.
Other forms and workflow solutions for SharePoint, such as NINTEX and K2, are substantially more expensive to implement and support. These come with feature sets and capabilities – along with a price tag – meant for enterprise organizations. NITRO Studio comes with comparable features, yet is priced so that just about any organization can benefit from it.
NITRO Studio gives you a set price that does not increase as you create more forms and workflows.
NITRO Studio provides a set price that you can budget for, with a subscription that is based on the size of your SharePoint farm or Office 365 tenancy. Other companies charge based on the number of forms and workflows you create. This results in costs that rapidly increase as more and more forms and workflows are implemented. The more you use those tools, the more they cost!
NITRO Studio runs on both SharePoint on-premises and Office 365.
NITRO Studio runs on SharePoint 2013, 2016, and 2019 and in Office 365. Microsoft's Power Platform does not run directly on SharePoint on-premises. It requires a standalone Power Apps subscription (over and above the cost of Office 365) with a Data Gateway to connect to SharePoint on-premises data. This extra subscription runs $10/user/month for one app or $40/user/month for unlimited apps.
NITRO Studio is low code/no code solution that is easy for non-tech people to use.
NITRO Studio does not require a steep learning curve. Most of its functionality is intuitive. At the same time, it offers many in-depth features that allow you enormous flexibility on the forms and workflows you can create. It can be adapted to just about any business process.
NITRO Studio replaces legacy programs like InfoPath, Lotus Notes, and Access forms.
Cost savings and operational efficiency come from replacing outdated technologies that no longer meet the needs of a modern workforce. Also, these legacy programs require retaining personnel who know how to support them. This focuses the organization's resources on past, inefficient technologies rather than ones that will bring updated solutions to end users. NITRO Studio is forward-leaning technology that will serve you for years to come.
NITRO Studio is natively mobile and cloud friendly.
There is no need for extra connectors or additional components to bring NITRO forms, workflows, and reports to smartphones and tablets. NITRO Studio is built from the ground up using responsive, modern designs and programming models. It allows a mobile and remote workforce to operate with great efficiency.
NITRO Studio is an "All-in-One" package.
NITRO Studio includes all the components you need to create applications in SharePoint and Office 365. Forms, workflows, actions, reporting, portals, printing, modern web parts, and even AI Services like chatbots are all included in the NITRO Studio package. Other solutions, such as the Power Platform, are collections of different components where integration was an afterthought, if at all. NITRO Studio was created specifically for building SharePoint and Office 365 applications.
NITRO Studio is fully supported by Crow Canyon Software.
We created it, we support it. Many of our customers give us glowing reviews. This is because we are excited to work with you to help your company achieve higher levels of efficiency and solve real business automation problems. We like to share our knowledge and experience to help you attain your organizational efficiency goals.
Ready to give NITRO Studio a try? Request a demo or contact sales@crowcanyon.com to get going!