Help Desk * Customer Support * Facilities * HR * Assets * Equipment * Contracts * Purchasing
Why Choose Crow Canyon Systems?
Crow Canyon Systems is changing the way organizations work.
We turn SharePoint and Office 365 into a powerful platform that streamlines business processes. Our applications provide many benefits to organizations of all sizes by reducing costs, improving service levels, increasing efficiency, and providing analytics – all to make your job easier!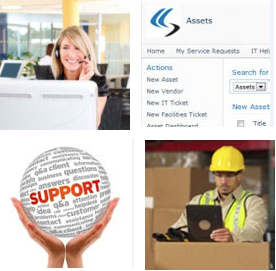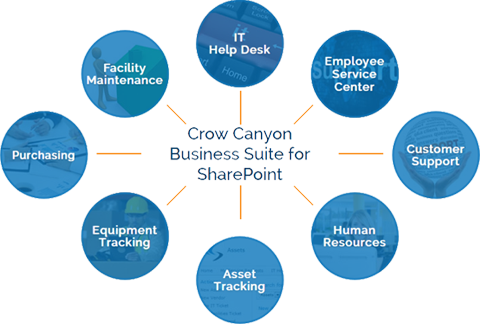 More Than Just Standard SharePoint Applications
Built using standard SharePoint features along with enhanced web parts, dashboards, custom code, and other special features. Runs on SharePoint 2007, 2010, 2013 and Office 365.
SharePoint Help Desk, SharePoint Service Desk and SharePoint Customer Service, and more — all are based on native SharePoint merged with our unique enhancements.
Quality SharePoint & Office 365 Custom Development
SharePoint Custom Development for On-Premises and SharePoint Online / Office 365
Our Microsoft SharePoint Custom Development Services help you realize SharePoint's full potential, both on-premises and online, including Office 365
Crow Canyon works with your organization to design and build solutions that leverage SharePoint's many collaboration features and capabilities, whether for on-premises, hybrid, or online / Office 365. These custom applications can connect with existing systems and databases, thereby integrating SharePoint and Office 365 with essential business processes.
Professional SharePoint & Office 365 Developers
Whether implementing our product packages or developing new complementary custom development SharePoint solutions, our experienced team can meet your organization's needs. If you already use SharePoint or Office 365, then you understand the potential for increased productivity, application integration, and collaboration that these platforms bring.
Help Desk * Customer Support * Facilities * HR * Assets * Equipment * Contracts * Purchasing
was last modified:
November 7th, 2015
by