Purchase Orders & Purchase Requests
for SharePoint & Office 365
Streamline the purchasing process!
Leveraging the power of Microsoft's SharePoint platform, Crow Canyon's Purchase Request / Purchase Order system uses workflows and custom actions to track financial requests from beginning to end.
Runs on SharePoint on-premises or Office 365.
Replace Paper Purchase Orders and Requests with an Electronic Approval System
The SharePoint and Office 365 Purchase Order System puts Crow Canyon's unique NITRO application service layer to work managing purchasing requests and workflows. Easily replace any paper request/voucher system and greatly improve speed and accountability. Track and record all activity. Know at glance the status of each request and what is required to move it along.
Why Use Our Purchasing Solution
Forms and Workflows Guide the Purchase Process
Users create purchase requests using a form that can be configured for your organization's specific requirements. The form can pull in information, such as the user's manager from Active Directory, products and prices from a product catalogs, approvers from SharePoint lists – whatever is needed to automate and streamline request creation.
Once submitted, the system's workflows send out approval notices. The approval workflows can be as simple or complex as you want. Approval could be based on the requester, the department, the items requested, location, cost, and many other factors. The approvals can be one level, or multi-level, with parallel or serial approval, or can be as simple as just requiring the requester's manager to approve, or even no approval at all!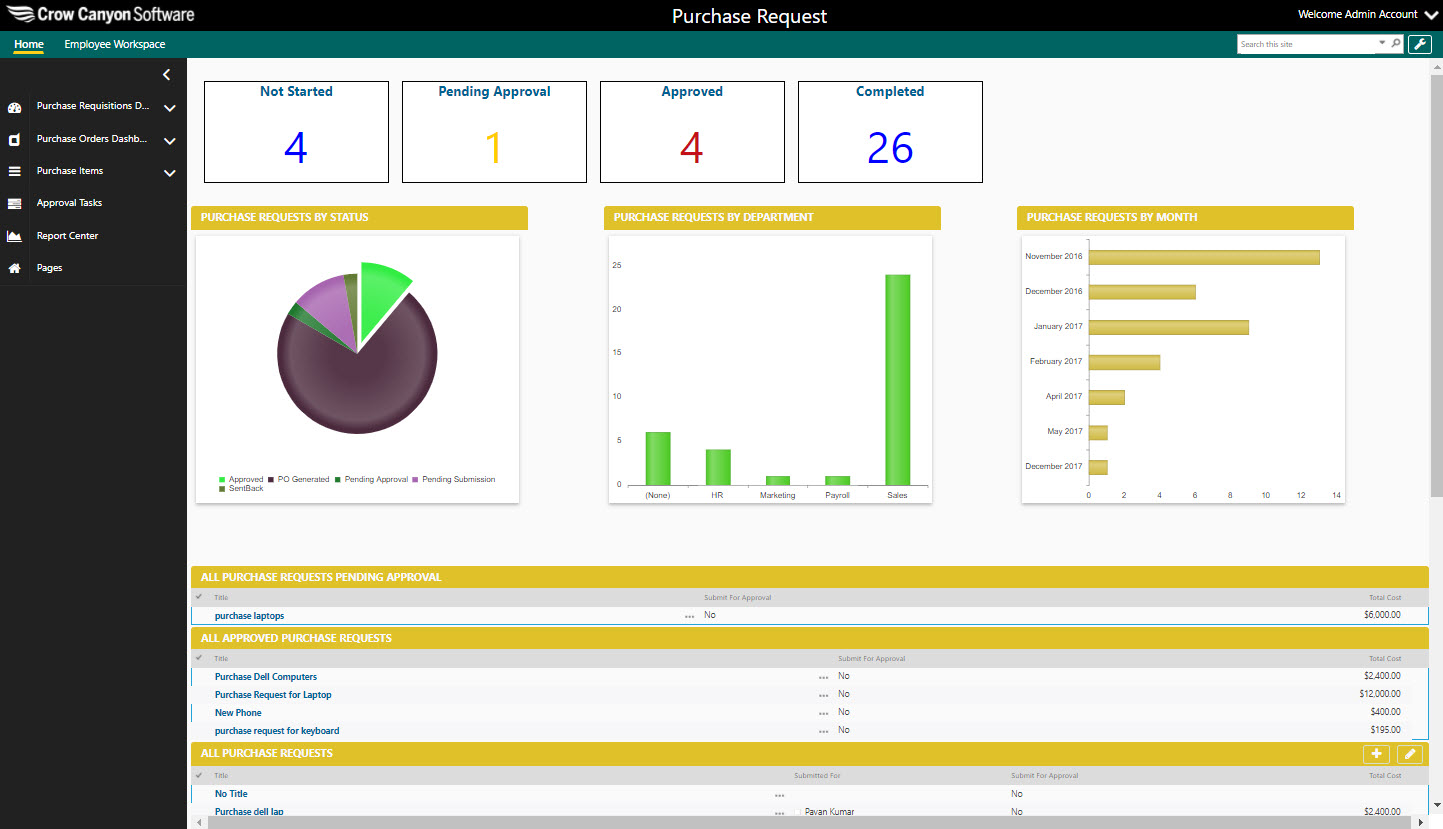 Integration with financial and asset/equipment systems
The SharePoint Purchase Order system has built-in flexibility and configuration options that allow it to integrate with existing financial and procurement systems. It can also be set to work with programs such as our Asset or Equipment management programs so that the items ordered can be automated created as IT assets or pieces of equipment in those program once they are received.
Purchase Request is Approved
Once approved, the Purchase Request can generate a Purchase Order. That is then sent either directly to the vendor or could go to the Purchasing Department, who then double-checks the request, and if all is good, places, the order. When the goods are received, all parties are updated.
Reporting and Dashboards Keep an Eye on the Progress
Reports and dashboards show current open requests and orders, including approval and fulfillment status, as well as historical trends. All purchase records are saved for later reference and possible audits.
Highly adaptable to your organization's purchasing policies and procedures
The purchasing application can be easily customized to match your organization's current procedures. It has layers of security that prevent unauthorized access to any part of the program. It can have workflows and validations that make sure all purchases are in accordance with company policies.
Track fulfillment of orders
The system allows you to track delivery of every line item, including partial delivery. Once fulfilled, people who will use or configure the items are informed and can take the next steps to put the purchased items to good use at your organization!
Paperless Purchase Requests and Purchase Order Tracking
Users can submit purchase requests from SharePoint, web forms, email, or mobile device. From creation to completion, the Purchase Request system tracks and records all approvals, status, and activity.
Streamline your SharePoint purchasing workflow from beginning to end
Working in conjunction with the Purchase Request system, the Purchase Order system allows for easy customization to match your purchase process and to replace paper forms.Set predefined approvers based on the cost, department, category, some combination of the above, or all of the above. Advanced reporting makes managing budgets a breeze by easily viewing total costs by department or category.
Approval workflows adapted to your particular needs
The SharePoint purchase order workflow can have simple or complex approvals. It can be as simple as manager approval, with the manager pulled from Active Directory, or it can involve more complex approvals based on cost, location, type of purchase, etc
Key Features of Crow Canyon's Purchase Request & Purchase Order System on SharePoint & Office 365
Easily create and track purchase requests

Customizable approval workflows, including multiple levels

Approvals based on cost, department, type, and more

Restricted, secure access to edits/approvals

Automated notifications, notices, and routing

Notifications on approval, denial, and request for more information

Integrates with external financial systems

Reporting for financial control and managed costs

Printing and distributing of Purchase Orders

Monitor activity throughout the workflow
Purchase Order and Request Resources
PRODUCT Pricing
Click to see comparison charts and pricing breakdowns.

TALK WITH PURCHASE REQUEST
SPECIALISTS
888-706-0070
Purchase Orders & Purchase Requests
was last modified:
March 25th, 2020
by