Chatbots & AI Services
Microsoft 365, Teams, & SharePoint
We provide business applications for Microsoft SharePoint and Microsoft Office 365 as well as our popular NITRO Studio application creation platform. To make our products even better, we have now integrated Artificial Intelligence (AI) and Natural Language Processing (NLP) services into these applications and NITRO Studio.
Organizations can reduce costs and save time while giving users and customers quicker answers and a better overall experience.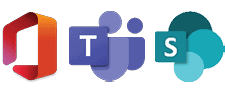 Mobile * Desktop * Microsoft Office 365 * Teams * SharePoint On-Premises
Chatbots
Chatbots are a friendly way to interact with a Service Desk or Customer Support system. Users and customers can get quick answers to questions 24 x 7, without waiting for staff to respond. This saves time both for the end user and the staff.
Chatbots can be used for simple question-and-answer and to automate repetitive tasks, or they can provide a sophisticated conversation that intelligently provides access to services, without direct human intervention.
We offer:
Microsoft Teams Bots for our Business Applications – Integrate pre-built NLP-based Chatbots with your Crow Canyon applications.
See our range of Bots here

Custom Chatbots – We can help you build Chatbots that follow your specific business process, including integration with intelligent services like LUIS, Text analytics, Q&A Maker, and more.

Bot Discovery Service – We will work with you to design a Bot that meets your specific needs. Through conversations with you and your staff, we will come up with cost and timeline estimates based on the purpose, range, personality, and deployment of the Bot. We will also address options for onboarding the Bot and for analytics that improve performance. Find out more.
Natural Language Processing (NLP)
When doing searches or looking up information, people are getting used to typing in what is called "natural language", not structured queries. Putting in "How do I change the toner cartridge on my printer?" is much more natural than "printer toner cartridge change", for example.
Utilizing Microsoft's Language Understanding tool "LUIS", we apply intelligent machine learning to the user's natural language input. From this, we can predict overall meaning and intent and extract relevant terms. We are able to provide appropriate search results without requiring exact search terms.
Our system uses active learning to continuously improve the quality of the Natural Language Processing, thereby making interactions with users better and better over time.
We offer:
NLP-based SharePoint list search – Enhance your list search by letting users type in natural language. Crow Canyon's advanced search uses AI services to extract meaningful expressions and search the list to return relevant results
Custom NLP Solutions – Crow Canyon can help you create application-specific LUIS natural language model. We can help you build or update applications that will use this model to provide natural language interface and capabilities. These can be chat bot applications that will help users complete common tasks and can also be search-based applications that provide better results and are more user friendly.
Email Sentiment Analysis
Often, the first indicator of a customer service issue is when a customer sends in an email that details, in no uncertain terms, that he or she is not happy with your company. Wouldn't it be good to know about such emails right away?
Email Sentiment Analysis "reads" these emails, looks for language and structure that indicates a problem, and alerts staff if a customer needs special attention. That way, issues are identified and addressed before they balloon into more serious matters.
"Email Synchronization" is already part of our NITRO Studio and our applications. This parses emails and maps them to requests and ticket. Email Sentiment Analysis takes this one step further and analyzes that content of the email. When certain negative indicators are found, staff and managers can be alerted so that they can take immediate action.
By knowing as soon as possible that a customer is not happy with the service or products delivered, staff can provide solutions and pre-empt further escalation. Addressing a dissatisfied customer's concerns quickly results in better service and a higher level of customer care.
We offer:
Email Sentiment Analysis – Contact us if you would like to implement Email Sentiment Analysis in Crow Canyon applications or NITRO Studio, or if you want to make this part of other applications or business processes you already have in place or are building.

Data Optimization
Your Service Desk most likely has a large amount of tickets, issues, requests, questions, etc. You may be using this information for reporting and trend analysis, which is important, but it can also be used as a rich source of data for building KB articles and FAQs.
Our Data Optimization service turns this unstructured set of historical data into a powerful tool for Service Desks. An optimized, well-categorized KB speeds resolution and help you provide better service.
Rather than have data from past support requests or user issues sit there untapped, our data optimization can distill and structure this set of information for use directly by users and staff. It can also be made available to chatbots.
We help you extract the key data, organize it, and present it so that your Service Desk can use it to its best advantage, reducing costs and time spent on resolutions.
We offer:
Data Optimization/KB Building for Service Desks based on existing service desk resources. We analyze your historical ticketing data and compare it to your current Knowledge Base. If you don't have a KB, we build it for you. We optimize categorization and content to align with the actual "on-the-ground" reality of your Service Desk, resulting in a much more comprehensive data set that can speed resolution.
When used in conjunction with our Chatbot technology, the Service Desk can see a significant reduction in calls that need staff time and input to resolve.
QnA Maker
Microsoft's QnA Maker makes many types of documents, FAQs, manuals, PDFs, URLs, and more accessible through a simple question and answer bot. User can ask questions and engage with the bot, which then will respond based on the content of whatever data you have supplied.
QnA Maker automates the process of turning all this information into a form that can interact with the user through the bot.
A user might ask, "What are your hours today?", and the bot can respond with the correct information based on the data set it is "reading". The user can continue the conversation with the bot and get more information and answers. This can provide a friendly, interactive way to deliver information to users, without engaging staff or requiring the user or customer to do searches on his or her own.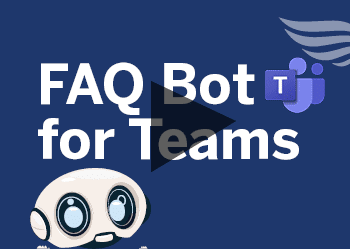 We offer:
Custom QnA Maker Solutions – Crow Canyon can help you develop the dataset and the QnA bot that brings your set of documents, manuals, etc., to life through user engagement and conversational interactivity with a bot.