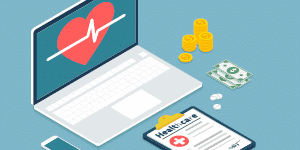 Case Study: Healthcare Compliance Documentation
Like many industries, the healthcare sector needs to comply with a myriad of government regulations. And as any compliance officer can attest, remaining "compliant" with these regulations means producing and updating documentation… and lots of it.
Hospitals, physician groups, health clinics, and other such organizations are required to maintain large quantities of documents that prove adherence to regulations. The issue is that this documentation is organic — it changes frequently as employees continually revise, edit, and update the content to meet standards. Keeping track of numerous document versions involving multiple authors poses a significant challenge to healthcare institutions.
To make it worse, the stakes are high: one critical mistake can result in heavy fines and possibly revocation of the much-coveted "compliant" status. Losing compliance often costs organizations millions of dollars in subsidies, revenue, and grants. The heaviest price paid, however, is the company's tarnished reputation.
Being realistic: The need for technology
Many healthcare organizations still rely on basic tools to address the complexities of compliance documentation. Spreadsheets and documents saved in network folders may work in very small-scale operations, but they are thoroughly unrealistic given the challenges of today's compliance environment.
What's needed is a highly accessible, technology-based solution designed to track documentation, engage with stakeholders, and automate configurable tasks. To remain competitive, organizations need to transition to platforms that offer robust functionality while reducing operating costs.
One of our clients, an independent physician's group, faced many of the challenges described above. Let's take a closer look at how the group addressed its compliance documentation needs using SharePoint-based solutions from Crow Canyon Software.
Compliance documentation management with Crow Canyon
A large independent physician's group needed to revise, update, and enhance its Healthcare Compliance Guidelines. These guidelines consisted of a large set of documents with many versions, multiple authors and editors, as well as a strict requirement to meet defined standards. The revision process quickly became a complex challenge due to the large number of interacting parties involved.
Using our SharePoint-based Document Management solution, we engaged with this client to customize functionality so that the product addressed their specific needs.
Their requirements included:
Need to keep track of the actual documents and their transition from one lifecycle stage to the next (e.g., writing → revisions → editing approvals → publication → verification → additional revisions, and so on);
Automated workflow processing of the documents to facilitate revision requests and their approvals;
Configurable notification and alert system designed to notify stakeholders when key changes and/or transition statuses have been made;
Robust reporting and analysis that enables management to quickly discern document status, the amount of time spent on tasks, efficiency of revision approvals, and alert response times; and,
Automated method of verifying that employees have read and understand the content of the documentation.
Addressing the core issues: Tracking, workflow, and reporting
After listening to their concerns, we worked with our client to develop and customize a solution that enabled them to address their documentation needs. Our core approach is designed to tackle three main areas: tracking, workflow, and reporting.
Tracking: The Document Management platform we recommended uses a ticket-based methodology to track the movement of documents. Highly configurable tasks are associated with each document, enabling the appropriate parties to request documents, grant approvals, and assign document verification.
Accessibility is a primary concern when it comes to employee interaction with workflow tasks — this is facilitated by our back-end infrastructure that supports multiple means of communication. Revision requests can be made from multiple origin points, such as email, Outlook, SharePoint, or even via telephone.
This ticket-based approach enables management to quickly determine key document data, such as its current status, where it is, versions being worked on, and outstanding revision approvals.
Workflow: Unlike other document types, compliance-related documents are highly organic; that is, they change frequently to reflect facts on-the-ground. It is critical that such documentation remain as current as possible in order to avoid jeopardizing compliance status. Compliance documentation, in particular, can benefit greatly from Crow Canyon's workflow processing infrastructure.
Powered by our NITRO™ application layer, the Document Management platform uses highly configurable workflow & processing technology to move documents along from one stage to the next across its lifecycle.
For example, after a writing team creates a document, a request for approval results in the automatic transfer of the document to a legal team for analysis. Subsequent requests for revisions will move the document to editing teams for modification.
Organic documents, such as the type used by our client, can effectively transition between different statuses as it moves toward final publication approval. Throughout this entire workflow, documents are tracked and their versions are updated to reflect their current status.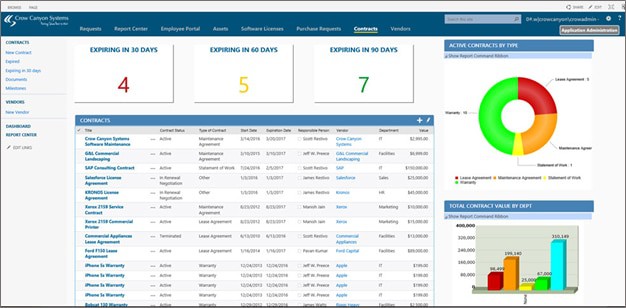 Reporting: Crow Canyon's Document Management solution features a powerful set of reporting & analytics tools designed to provide the insight needed to measure and improve service. This capability is quite helpful in document compliance, where documentation projects can quickly become overly complex. The pace of editing, approvals, legal analysis, and quickly-changing policies is much too fast for traditional document management methods. More often than not, managers are left to continually ask their team leaders, "What is the current status?"
Our reporting & analytics tool set negates the need for verbal status reports, as current data is immediately accessible via online dashboards. Using an intuitive interface that is seamlessly integrated with Microsoft SharePoint, management can see how documents are progressing, whether or not they require approvals, how long a document remains in each phase (e.g., editing), and how effective their teams are performing. This level of reporting & analysis ensures that compliance documentation can quickly move through workflow stages while avoiding bottlenecks so common to the documentation process.
Conclusion
Using SharePoint's document management capabilities along with tracking, workflow, and reporting components developed by Crow Canyon, our client has been able to manage the large workload and successfully keep the Guidelines as up-to-date and relevant as possible.
—
Crow Canyon Software delivers the power of a connected, digital workplace to your organization, helping you be more successful and competitive. We provide the tools that allow you to gain the maximum benefit from SharePoint and Office 365, Microsoft's premier collaboration platforms.
Want to learn about how our business productivity applications for SharePoint and Office 365 can power up your organization? Give us a call at 1-925-478-3110 or contact us by e-mail at sales@crowcanyon.com. We look forward to hearing from you!