SharePoint and Office 365 Custom Development
Custom Development for SharePoint, Office 365, Azure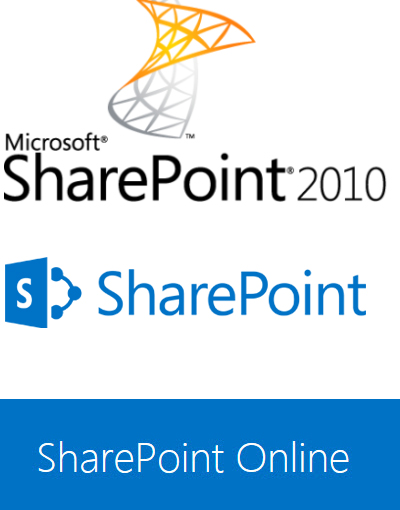 Our Microsoft SharePoint, Office 365, and Azure Development Services help you realize SharePoint's full potential, both on-premises and online.
SharePoint / Office 365 / Azure Developers
Whether implementing our SharePoint applications or developing new SharePoint solutions, our experienced team can meet your organization's needs.
Our approach is to:
work closely with your organization to design and build the solutions you need
leverage SharePoint's many collaboration features and capabilities
integrate SharePoint with essential business processes
use best-of-breed SharePoint components.
Benefit from efficiencies and cost-savings while maximizing Microsoft's robust and capable SharePoint and Office 365 platforms.
See our SHAREPOINT SERVICES BROCHURE
Our team of experienced professionals can develop customized applications for your business in SharePoint on-premises, SharePoint Online / Office 365, Azure, or a hybrid cloud.
If you already use SharePoint, then you understand the potential for increased productivity, application integration, and collaboration that this platform brings!
Sample of Crow Canyon Projects
13. Subcontract Management for Government Contractor
14. Inventory Control for Manufacturing Firm
15. Field Service Application for IT Services Companies
16. Onboarding for an Electricity Generator
17. Onboarding for a large Food Manufacturer
18. Service Requests for two California Transit Authorities
19. Asset Management for Public Works Department of a Large City
20. In-Store POS Support for Clothing Retailer
21. Claims Management for an Insurance Company
22. Marketing Department Requests for Community College
23. Equipment Management for Deep Sea Marine Service Company
24. Help Desk, Assets, Purchasing for large Midwest City
25. Asset Management for NY Medical Group</li
Whether it is a need to significantly customize workflow to support unique process requirements or build a completely new SharePoint process-based application, our development team can deliver for your business needs – fast and cost-effectively.
Pricing can be by project or by the hour.
For more information about SharePoint Custom Development, please contact us
SharePoint and Office 365 Custom Development
was last modified:
December 4th, 2018
by