Two shows in one week! Crow Canyon is Silver Sponsor at both.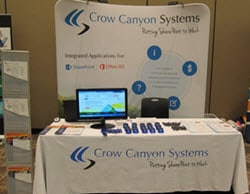 Before 2016 draws to a close, the SharePoint and Office 365 community will have the opportunity to improve their skills, learn about new features, and engage with fellow SharePoint experts and enthusiasts at two big December events: SPTechCon in San Francisco and SharePoint Fest in Chicago.
SPTechCon in San Francisco
From December 5th to 8th, SharePoint enthusiasts will be gathering in San Francisco to attend SPTechCon. This event presents a great opportunity to improve SharePoint skills and learn more about how SharePoint can play a role in organizations of any size. Over 80 classes and panel sessions will cover a wide variety of topics, with a particular focus on SharePoint 2016.
Key topics to be discussed include:
Preparing for SharePoint 2016
What's New for Admins and Developers in 2016?
Microsoft Flow, PowerApps, and Framework
Configuration, Administration, and Data Loss Prevention in 2016
No-Code Solutions for SharePoint, and many more.
The last topic mentioned is of particular interest, as Crow Canyon's no-code NITRO™ technology layer allows us to build true business application platforms on SharePoint and Office 365. In fact, all of our solutions feature zero-coding effort — our NITRO™ layer is designed to lay on top of your existing SharePoint and/or Office 365 environment, enabling you to take advantage of powerful business-oriented feature sets without the headache of installation! You can find Crow Canyon at booth 603.
SharePoint Fest in Chicago
Chicago will be chock-full of SharePoint fans this December 6th to 9th as SharePoint Fest comes to the Windy City. The conference will feature over 70 sessions across multiple tracks, presenting opportunities for attendees to learn directly from Microsoft Certified Trainers, Engineers, and MVPs. The technical classes and workshops are focused on practical SharePoint and Office 365 techniques designed to be implemented in organizations of all types.
The expanded 4-day conference is organized into multiple learning tracks, such as:
Enterprise Content Management Track: Learn about intranets, extranets, and web publishing (WCM);
Business Value Track: Study ROI and investment considerations for SharePoint as well as solutions that offer value;
Workflow Track: Aligning SharePoint functionality with workflow models.
As regards the last track mentioned, Crow Canyon's SharePoint and Office 365 solutions place a significant emphasis on workflows & processes. An important component of our NITRO™ layer, workflows empower organizations to take command of how SharePoint and Office 365 can manage business processes, such as requests, problems, and issues, to bring greater efficiency and productivity. All the workflows in Crow Canyon applications are highly configurable, automated, and scalable, enabling companies to easily implement structured processes no matter how complex the organization.
Workflows & Processes are just one aspect of what Crow Canyon brings to the table. We look forward to showing SPFest attendees exactly how Crow Canyon solutions can power-up their SharePoint and Office 365 platforms! You can find Crow Canyon at booth 11.
Learn More About Crow Canyon
Want to learn more about how our solutions can help your company engage with your customers and/or users? Give us a call at 1-925-478-3110 or contact us by e-mail at sales@crowcanyon.com