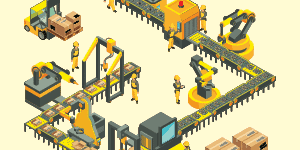 Case Study: Quote Generator for Industrial Supplier
Industrial machines are unbelievably complex — the term "many moving parts" does not do them justice. Today's multi-million dollar industrial machines, from extruders to industrial torque converters, are highly configurable based on specific business need. Each machine is comprised of hundreds—often thousands—of different components that are used in unique situations.
Many components and sub-components (and sub sub-components) are optional and conditional; that is, some will not function without the inclusion of another. The level of dependencies can be extremely complex, both in terms of functionality and pricing.
A company that provides such equipment for industrial processes approached us with some specific requirements. Let's see how a custom Quote Generator we created in SharePoint helped this manufacturer empower its sales personnel with the tools they need to accurately price large-scale industrial machinery.
Identifying the challenges
Our client's sales personnel needed an efficient way to accurately price specialized and customized industrial machines for its customers. Using manual methods, such as spreadsheets and e-mail attachments, proved to be both time-consuming and error-prone. The extremely high cost of the machinery, coupled with the level of complexity, added an extra layer of risk — as our client's business grew, the company required a technological answer that could address these concerns while being scalable.
Other requirements included:
Accessibility: The solution was to be used by field sales technicians, so it had to be easily accessible;
Accuracy: The sales quotes needed to convey perfectly accurate pricing details, particularly given the high number of component dependencies;
Viability: The system needed to provide quotes for machines that directly addressed a specific business need, so rules and requirements for the purchase had to be confirmed & adhered to;
Integration: The client operated in a Microsoft SharePoint environment so the solution needed to integrate seamlessly without compromising existing functionality.
A path to efficient pricing
After listening carefully to our client's requirements, we proposed a SharePoint-based Quote Generator solution that incorporates all the various permutations of the machines being purchased.
The methodology and features we included in the Quote Generator solution were as follows:
Data input: Sales staff enters all of the machines and components that are required. The software is Web-based and can be accessed anywhere, as long as there is an Internet connection;
Data validation: Each individual component and its dependencies must be checked and verified;
Pricing verification: The Quote Generator system allows our client's central office to update pricing and component information, and then automatically make that information immediately available to salespeople in the field;
Quote generation: When all data and pricing has been verified, the Quote Generator software creates an accurate sales quote that can be immediately shared with potential buyers.
Out client was provided with a solution that replaced manual processes with a highly efficient system that ensured accuracy and accessibility while leveraging its existing SharePoint infrastructure. Reliable quotes can now be generated in a timely manner, empowering their sales personnel to focus on making the sale instead of completing tedious spreadsheets.
Conclusion
Crow Canyon platforms boost the native power of Microsoft SharePoint and Office 365, effectively turning them into powerful business productivity solutions. Our NITRO™ powered software is highly configurable and individual modules are fully integrated, enabling you to select the tools that work best for your organization.
—
Crow Canyon Software delivers the power of a connected, digital workplace to your organization, helping you be more successful and competitive. We provide the tools that allow you to gain the maximum benefit from SharePoint and Office 365, Microsoft's premier collaboration platforms.
Want to learn about how our business productivity applications for SharePoint and Office 365 can power up your organization? Give us a call at 1-925-478-3110 or contact us by e-mail at sales@crowcanyon.com. We look forward to hearing from you!