CROW CANYON NITRO™ Studio for SharePoint & Office 365
Crow Canyon's NITRO™ Studio is an application service layer that powers up SharePoint and Office 365 with a unique set of functions and capabilities, turning SharePoint and Office 365 into true business application platforms.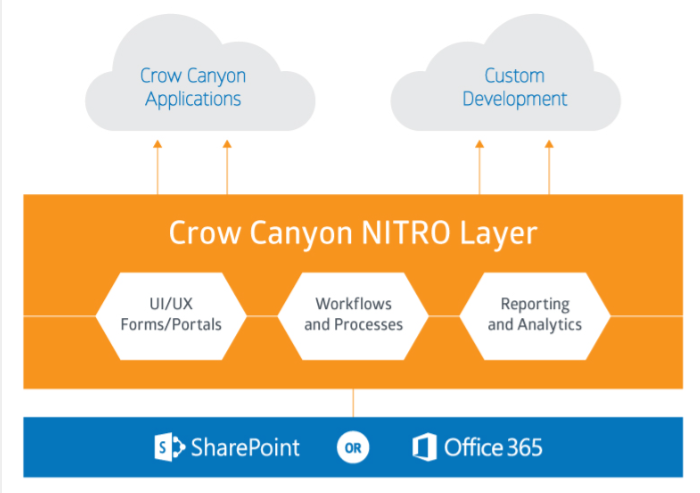 With NITRO as the foundation of all our applications and custom development projects, we are able to provide highly capable, full-featured applications for SharePoint and Office 365 as well as quick development and deployment, with lower costs.
In addition, NITRO extends SharePoint and Office 365 without requiring any coding or special skills, putting the power to configure and adapt our SharePoint applications into your hands.
NITRO provides similar enhancements in on-premises SharePoint 2013/2016 and in Office 365, but uses different coding techniques to deliver a stable, highly functional application layer that is appropriate for each platform.
---
Three Pillars of Application Design
NITRO Studio is based on Crow Canyon's "Three Pillars of Application Design" strategy — UI/UX, Workflows & Business Processes, and Report & Analytics. This unique application design strategy drives user adoption, automates workflows, and optimizes service delivery with robust reporting.
---
NITRO Studio Components
NITRO Studio consists of 20 components that turn Office 365 and SharePoint into a robust application platform, allowing you to manage forms, workflows, reports, portals and much more. These components provide the power needed in robust business applications.
Learn more about NITRO Studio Components



---
Power Portal – an advanced Application Portal
A highly configurable application portal that provides an engaging and secure interface for users and customers to interact with an Office 365 or SharePoint application.

See our blog posts on Application Portals:
Application Portals: Putting Users in the Driver's Seat
Application Portals: An In-depth Look
Application Portals & Intranets: How Do They Interact?

---
Crow Canyon NITRO Studio for Office 365 is 100% native Office 365
Uses Apps and Addins built specifically for Office 365
Uses no sandboxed solutions or legacy on-premises features or code
Follows all Microsoft standards for Office 365 development
UI or other enhancements adhere to Microsoft guidelines for Office 365
Programs and UI are not affected by changes in Office 365 because NITRO follows all Microsoft Office 365 standards and guidelines.
No custom-coded web parts in Office 365
Unlike other vendors who use third-party products and templates, Crow Canyon develops, supports, and enhances its own programs, thereby providing robust, cost-effective, well-supported business applications and custom solutions that meet your unique needs.
NITRO™ Studio Overview
was last modified:
February 2nd, 2018
by